POSTPONED:

2020 AC-119 Gunship Reunion XXI Registration


October 28 – November 1, 2020 at Fort Walton Beach, Florida


"Back Home Again at Four Points"
NOTE:  It is with GREAT regret we announce the postponement of the 2020 Reunion until 2021. We will post new information as soon as we negotiate the appropriate hotel and event contract changes.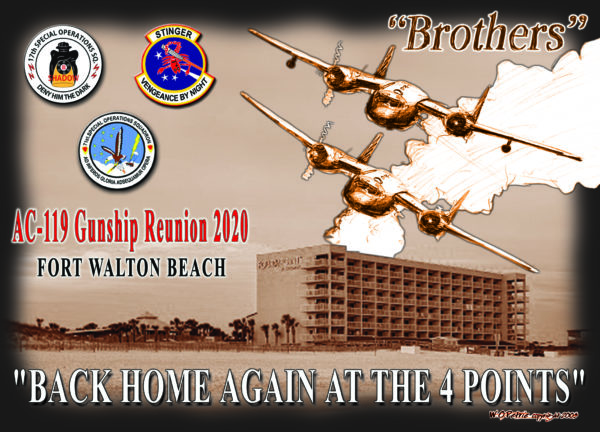 Our AC-119 Association's Founding Fathers got us together in 2000 to celebrate who we are, the friendships & bonds we'd formed, & to affirm our place in military & SEA History. 400 of us met at the Fort Walton Four Points Hotel. Since then, we've held Reunions every year at locations all over our great country, doing exactly what our Founding Fathers set out to do. We added reasons to get together, like NEW friends, & including family members of our honored KIAs who Gave All. Help us show family, friends, & history our pride in being part of this AC-119 Gunship family. Although we have to slip the 2020 Reunion to 2021, please plan to join us in 2021, while you can, where we started, at the Four Points Hotel in Fort Walton Beach!!