2020 AC-119 Gunship Reunion XXI Registration


October 28 – November 1, 2020 at Fort Walton Beach, Florida


"Back Home Again at Four Points"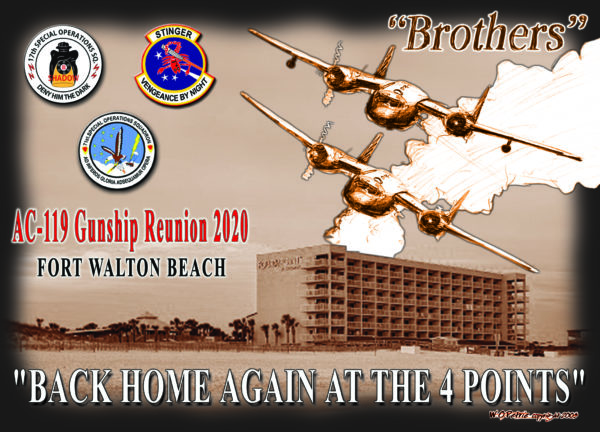 Our AC-119 Association's Founding Fathers got us together in 2000 to celebrate who we are, the friendships & bonds we'd formed, & to affirm our place in military & SEA History. 400 of us met at the Fort Walton Four Points Hotel. Since then, we've held Reunions every year at locations all over our great country, doing exactly what our Founding Fathers set out to do. We added reasons to get together, like NEW friends, & including family members of our honored KIAs who Gave All. Help us show family, friends, & history our pride in being part of this AC-119 Gunship family. Join us, while you can, where we started, at the Four Points Hotel in Fort Walton Beach!!
Hotel Room Reservations – Four Points by Sheraton
1325 Miracle Strip Parkway SE, Fort Walton Beach, FL 32548
Ø  Rooms are $110.39 for one King Bed no View, $132.69 for two Queen Beds Garden View, or $171.71 for 2 Queen Beds Beach View, all prices tax inclusive. Remember, Hotel Reservations are not part of the Reunion Registration & you must contact the hotel separately. Use their website Book your group rate for Back Home Again or call 1-850-243-8116 for the hotel direct or 1-800-325-3535 for central reservations to reserve your room. Tell them you are with the AC-119 Gunship Association.  BOOK NOW! You can reserve rooms at our Reunion rates from Friday, Oct 23rd to Tuesday, Nov 3rd, 2020, but our Reunion rates are only guaranteed through Oct 5th. After that, the rates are only good for as long as rooms are available. Bottom line: reserve your room by Oct 5th to get our guaranteed Reunion rate. You can cancel without charge, as long as you cancel no later than 24 hours prior to your reservation check-in date.
Reunion Registration
After making your Hotel Reservation, Register for the Reunion!
Ø  Register online at Online Reunion Registration.   Note: It's a good idea to print your completed registration & bring it to the Reunion. Note When you Checkout, you'll see a place where it asks "Are you a returning customer?" and "Do you want to create an account?" Those are PayPal fields & you can ignore them. Just go to the end of the Checkout page & you'll be able to complete your registration using either PayPal payment or a credit card.
Ø  If you cannot pay online, CALL Doug Wohlgamuth at 813-781-5728 NOTE: he's East Coast time.
Ø  That registers you for the Reunion. If you plan to participate in the Tour, include it on your Reunion Registration, also with payment. Note: Reunion Registration cut-off is October 21st; cancellations on or before October 21, 2020 can receive a refund or make a donation. If you cancel after October 21, 2020, we may be required to pay our contracted costs, so no refunds (but, talk to us if there are special circumstances like family emergencies or losses).
Ø  When you arrive, head to our Reunion Table to pick up your Reunion Registration packet with name tags, Event tickets, etc. If we're not there when you arrive, check-in at the Hotel Desk & go to the Hootch to pick up your Reunion Registration packet.
Transportation
Ø  Airlines: Fort Walton Beach is served by the Destin-Fort Walton Beach Airport (VPS) with Flights by American, Delta, & United Airlines.
Ø  Car: Parking at the hotel is free.
Ø  RVs/Campers: Hurlburt (850-797-0103) & Eglin (850-883-1243) FamCamps: no reservations; call a couple weeks ahead; Geronimo $56+ (850-424-6801) & Destin West $130+ but lower weekly (850-203-4533)
Reunion Agenda
Wednesday, Oct 28 (Reunion Registration; Hootch; anything you want to do on your own!)
Hootch opens & stays open daily from about 0800 until about 2200 except during our Meet & Greet, Banquet, & Farewell BBQ. Hootch snacks & beverages are free (donations welcomed :>)
Thursday, Oct 29 (Reunion Registration; Hootch; Pensacola Area Tour!)
Time TBD: A Pensacola area tour for $25 will include the Vietnam Wall South, Pensacola Historic District, the Naval Air Museum, & lunch (not included in tour price) at the Cubi Bar Café.
Friday, Oct 30 (Reunion Registration; Hootch; 18th & 73rd Legacy Squadrons' Picnic, Meet & Greet!)
Time TBD Picnic: Our 18th & 73rd Legacy Squadrons are hosting a picnic for us across from the Hurlburt Main Gate in the Picnic Area (not "on" the base); we'll post & provide info in a follow-on message. Free to Reunion Attendees! Come on out & meet the warriors who are our heritage!!!
1700 – Meet & Greet Cash Bar
1800 – Meet & Greet on the North Pool Deck & Patio is $37; kids ages 4-12 are $18.50.
Ø  Introductions of Reunion newcomers including guests & KIA Family members.
Ø  Menu: Beef Wellington hors d'oeuvre, Swedish Meatballs; Bacon wrapped Scallops w/horseradish sauce; vegetable Spring Rolls; fried Chicken Fingers w/honey mustard; vegetables Crudité w/Onion & Ranch Dip; coffee & teas.
Saturday, Oct 31 (Association Meeting; Hootch; anything on your own; Banquet!)
0900-1100 – Business Meeting for all Regular & Associate Members.
1700 – Banquet Cash Bar Note Optional dress up for Halloween – surprise us!!
1800 – Banquet is at the Emerald Coast Convention Center, across the highway from the Four Points
Ø  Menu – choice of one of these plated entrees; all include House Salad w/balsamic vinaigrette or ranch; New York style Cheesecake with triple berry Coulis or Apple Pie Parfait with salted caramel:
Ø  Bourbon balsamic grilled Flat Iron Steak with Jack Daniels demi-glaze; roasted Yukon Gold potato wedges; & roasted Brussel sprouts for $50
Ø  Jerk seared Mahi Mahi with mango Jicama slaw; Island rice w/dried pineapple; roasted red bell pepper, & grilled squash for $45
Ø  Cajun crusted Chicken Breast with red pepper cream; Jambalaya pilaf; broccoli & carrots for $41
Ø  Kids ages 4-12: Chicken Tenders with Mac 'n Cheese and Chef's Choice Vegetable for $20
Sunday, Nov 1 (Golf; Hootch; anything you want to do on your own; Farewell BBQ!)
Early – Golf Tournament. Doug Wohlgamuth will coordinate details with golfers.
1700 – Farewell BBQ Cash Bar
1800 – Farewell BBQ on North Pool Deck & Patio is $35; Kids ages 4-12 are $17.50. Includes:

Ø

 
BBQ Baby Back Ribs & Half Chicken with Southern Potato Salad, Twice Baked Potato Casserole, Smoked Baked Beans, & Southern Green Beans. Plus,

tossed Salad w/Ranch or Italian Dressing; Summer Fruit Salad w/Citrus, Honey, & Pecans; Banana Pudding, coffee & teas.
Reunion Special Information
Ø   Look for more info in the Firing Circle about Halloween dress up options!!
Ø   Breakfasts & Lunches –On your own. The Hotel has excellent, affordable breakfasts!
Ø   Reunion T-Shirts are ready to order! We'll have three order sessions. The first session ends April 14, 2020, & we'll send another email with the second order session dates. The shirts will be delivered to Gus Sininger & you can pick yours up at the reunion. If you do not want to wait until the reunion, you can have them delivered to your address for an extra fee Reunion T-Shirt Group Order Form.
Ø   Sponsorships: we keep Reunion costs as low as we can. One way to help us do that is to become a Sponsor! Learn about that at Become an AC119 Gunship Association Sponsor or in the Newsletter. Our strong crew relationships in AC-119s are one of the best things we have. On Crew or Group sponsorships, here's how you do it: one of you starts the ball with a donation, & "titles" the Sponsorship (e.g., Fred Firepower's Crew, Phan Rang Wrench Benders, Stinger Ammo Can Sitters, etc). We'll include your names when we list the Sponsorships on the web & in our Banquet Brochure.
Ø   Reunion Helpers: Coordinator Gus Sininger can use help on a few things at the Reunion. If you can help, please contact him & let him know what you can help with, like:
1.  Welcome Team; they welcome folks, give them their Reception package, & only need to cover one morning, afternoon, or evening:
a.     Wednesday afternoon or evening
b.     Thursday morning, afternoon, or evening
c.     Friday morning or afternoon (After that, Reception packages will be in the Hootch)
2.     Hootch-Sitters: these are the "Go To" person in the Hootch for a morning, afternoon, or evening. They replenish snacks/beverages & make sure questions or requests get to Gus. Sitters only need to cover one morning, afternoon, or evening stint. We also don't need Sitters during the Meet & Greet, Association Meetings, Banquet, or BBQ:
a.     Wednesday afternoon or evening
b.     Thursday morning, afternoon, or evening
c.     Friday morning or afternoon (no Sitter needed during Meet & Greet)
d.     Saturday afternoon (no Sitter needed during Association Meeting & Banquet)
e.     Sunday morning or Sunday afternoon (no Sitter needed during Farewell BBQ)
Ø  Silent Auction: If you'd like to contribute, something that fits in luggage works well. If you have an item you think needs to be bid upon as an Active auction item, please let Gus know & he'll coordinate with our Auction Team on whether it will be a Silent or Active auction item.
Ø  Special Raffle Item: Commemorative Kimber Classic Stainless Steel, Combat Trigger & Ambi (ambidextrous) Safety .45 Pistol in a special box, crafted & donated by Cherokee Firearms gunsmith Ron Soderquist. Raffle tickets will be 1 for $10; 6 for $55, & 13 for $110. This pistol will have special AC-119 commemoration pistol grips; & comes with two magazines, carrying case, & gun lock. You can buy tickets now through next year, for Raffling off at the 2021 Branson Reunion. Doug Wohlgamuth will take & hold all tickets until Branson. Look for more info on our web Reunion page & in the Firing Circle.
Ø  Oral History Videos and History Book Bios:  Over 200 of our air and ground crew, plus family members and spouses, have made oral history videos and/or written History Book bios. New videos and bios will be posted on our Association web site. Videos may be done solo or with your spouse, crew or other crew members.  If you have not made a video or written a bio, we encourage you to do so.  You can sign up to do a video or History Book Bio when you complete your Reunion Registration. Click on this link for some tips for making a video or writing a bio: Videos and Bios – Samples and Tips.
 Ø  We will notify you & update the website if anything changes. The important thing right now is to complete your Hotel Reservation & your Reunion Registration!
ON YOUR OWN: Things to see & do in Fort Walton Beach & Vicinity
Ø  Mini Golf, Gulfarium, Armament Museum, Flea Markets, Dinner Cruises, & walking distance to area dining, nightlife, & entertainment.. Also Scuba dives, ½ or full day Fishing Trips.