What's New
What's New - President's Messages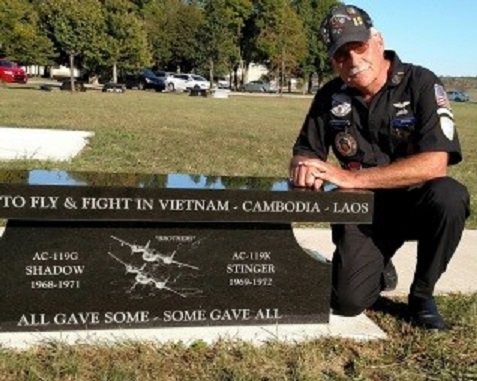 President's Message – January 2021
Greetings fellow AC-119ers, Family, and Friends.
Happy New Year everyone. Last year ended with everyone looking back at a truly CRAZY year. This is a first for me: I wrote and posted on the Association Web site a November President's Message, which told of a Nov. Firing Circle newsletter coming, which never happened. Let's say that this is part of 2020!
I sincerely hope and pray that in this New Year, 2021, we will experience a much better world to live in than was 2020. With a safe and effective corona virus vaccine on its way across the USA from the super virologist in our pharmaceutical companies, the pandemic should wind down as 2021 progresses – we hope and pray.
Nevertheless, many of you, I suspect, are expecting to receive a Firing Circle newsletter with all the details for our reunion in Ft. Walton Beach in Oct. A January Firing Circle is coming, but the reunion registration process is being delayed for two reasons. First, the details and registration process are tied to our web site, which required a significant update to the ancillary modules that allows it work so well. Thank You to web master Liz Buss for her hard work. Second, and more troubling, are the new uncertainties associated with distribution of the corona virus vaccine, and our population attaining "herd immunity" against it. The CDC is saying now that if 75-80% of the USA population is vaccinated by Sept., we will have the protection and can travel freely. But now, the Association is managing our commitments to the vendors that support the reunion (Hotel, Convention Hall, caterers, tours) so they can provide us necessary flexibility, should the USA NOT "open up" as expected.
As I write this, I foresee having our Oct. reunion as planned. If all registered guests are vaccinated, then the week should be as awesome as we ever had. If there are attendees who were unable to get vaccinated, then the associated risk rests with them. This is my plan: to follow closely the CDC's information on the USA vaccination process, and liaise with other organizations that are planning annual meetings this year. There are organizations that I am associated with, that have larger annual events than we have, and are facing these same issues.
News: (repeated from Nov. 2020 Prez Message)
With the passing of Shadow Pilot Don Craig, we lost our "legacy unit" Point-of-Contact (POC) for the 17th SOS, who were flying MC-130Js from Kadena AFB. I have been communicating with the 17th Past Cmdr., and learned that the 17th STOOD DOWN. The 130s stayed at Kadena with the 1st SOS. Now, an intriguing RUMOR has it that USAF wants another AC-130J squadron, probably at Cannon AFB, and they may become the 17th SOS (with gunships this time). That would be so cool. I'll keep an ear-to-the-ground. If you're interested in becoming this POC, contact me.
With the passing of Stinger Gunner Bruce Byrd, we lost our "tracker" of the last remaining AC-119 Gunship, Stinger 850 at TSN. A Google Earth search shows that our 850 was fully reassembled by March 2020, and out of the hangar, and now sits in line with other VN era former USAF A/C. The Association's goal is to see that OUR HISTORY of 850 is well presented if/when the Stinger is put on public display at a TSN museum. If you're interested in becoming the tracker for this, contact me. 
Prior Years President's Messages
2020-Current President Mike Drzyzga
2019 President Jerry Hester
2016-2019 President Mike Drzyzga
2013-2016 President Larry Fletcher
2012-2013 President Wayne Laessig
2008-2012 President Gus Sininger
2006-2008 President Vern Hansen
2005-2006 President Wayne Laessig
2004-2005 President Craig Corbett
2003-2004 President Rogers Stevens
2002-2003 President Gus Sininger
2001-2002 President Dutch Payne