What's New
What's New - President's Messages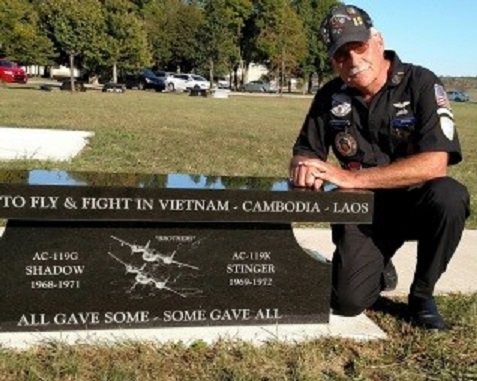 May 2021 President's Message  Greetings fellow AC-119ers, Family, & Friends,
Wow, this year is flying quickly past, it seems to me. Good news is that the Association is doing well & on track, especially towards our Reunion XXI in October. We already have about 135 committed to attend, with many "first timers" registered. The June Firing Circle has the list of "Who's Coming", & the reunion information flyer – please check it out for names of your friends & fellow crew members. Our Web site has become a huge resource now holding much of our history – including Oral History Videos, our biographies, & stories. Next time you are browsing the internet, go visit www.ac119gunships.com.
It is already May, & we are heading to a better Memorial Day than we experienced last year during the pandemic lock-down. As more & more States are relaxing the pandemic restrictions, we will have Memorial Day gatherings to honor those brave Americans we lost in "all wars". Here in northern NJ, American Legion Post 423 will have a small but energetic event, & I'll be proudly flipping cheese burgers on the grill for those in attendance. It feels like we are slowly getting back to normal. And I trust things will improve as we pass into summer. Please get out & enjoy the ceremonies.
I communicate often with other Association Board members & those who help run the Association, beyond our monthly Board-Plus Meetings. We have developed friendships & great working relationships. It is sad that we see an increasing rate of loss of our most senior members. In fact, member loss is greater than our gaining of new members. Nevertheless, I am very happy to see that our Facebook community is growing, & that we have many younger family members joining the Association. I am hopeful that the younger members attending the reunion feel & see our comradery, & develop an interest in helping continue the Association's activities. One of the busiest Associates is Ev Sprous – he does outreach, helps with Facebook, is our media manager, & handles membership. Ev can use help with the monthly task of communicating with "annual members" for membership renewal. If you are OK with Excel spreadsheets & Word documents on a Personal Computer, & you have about 1 hr. a month to donate to the Association, we can sure use your help. Please contact me more details & encouragement.
Thinking ahead: We have made preliminary plans for our 2022 reunion in Branson MO. Coordinator Jerry McDonald has firm plans to return us to Branson. I'm already looking forward to it. But, it is NOT too soon to think about what's next – 2023. If you all want to have our Association continue with our annual reunions, then we will need someone to take the lead for 2023. Past reunion coordinators have written a "guide book" that outlines what needs to be done, & the leader will be part of a committee that includes past coordinators. If available, we intend to use a professional "event coordinator" that will make the reunion coordinator's task much easier. We have lots of time, so please THINK ABOUT IT!
NKP Reunion #2 For those of us Stingers that served out of Nakhon Phanom (NKP) RTAFB, there is a well-planned reunion in Destin, FL, November 11, 2021. For more info, go to this link:  2021 NKP Reunion Weblink.
See you in Ft. Walton Beach. Please stay safe & stay well.
Mike Drzyzga, Association President
Email: drzyzga513@hotmail.com
---
May 2021 President's Message   2020 Letter from Mike Drzyzga Proclaiming Founding Fathers
---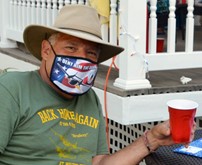 April 2021 President's Message  Great news everyone! After an unusually long time to finalize the details for our 21st reunion in Ft. Walton Beach, between Oct. 6 and Oct.10, we have ALL those details completed to the Association's satisfaction. It was a challenge to get the hotel to provide a suitable contract which allows us to keep the reunion costs to you as low as possible. We owe a BIG thank you to reunion coordinators Gus Sininger and Larry Hunter tor the extraordinary effort nailing down the details, and to Wayne Laessig to assure those details meet our requirements, for creating the announcement flyer, and working with our Web master Liz Buss to implement the on-line registration. Ev Sprous has probably posted this on the Association's Facebook page.
For me, this reunion means so much. I see our membership sadly, in increasing numbers, joining the final flight roster. And, the cancellation of the 2020 Reunion due to the ongoing pandemic really hurt. This reunion will be special for me, being able to spend time with you. We will do this in a safe and responsible way. I support the requirement that everyone attending will have been vaccinated against the Corona Virus.
Before you go to the Association's Web site to register, ALL the info you need is being sent to you by your POC, and it is also posted on our Association's Upcoming Reunion web page at https://www.ac119gunships.com/reunion/upcoming-reunion/. You really should read it well and understand all the things that are happening and to aid you in completing the registration.
We already have emails and Facebook post from about 50 people who are committed to attend. How cool is that! Remember, you should register with the Four Points hotel as soon as you can. The sooner we get an idea of the potential attendance, the better we can make adjustments to the week's details.
Also, a BIG "thank you" to you-all for an abundance of patience while we got this task accomplished.
Be safe, do the right things, and … stay healthy!! SEE YA IN FWB!
Mike D
---
January 2021 President's Message   Greetings fellow AC-119ers, Family, and Friends.
Happy New Year everyone. Last year ended with everyone looking back at a truly CRAZY year. This is a first for me: I wrote and posted on the Association Web site a November President's Message, which told of a Nov. Firing Circle newsletter coming, which never happened. Let's say that this is part of 2020!
I sincerely hope and pray that in this New Year, 2021, we will experience a much better world to live in than was 2020. With a safe and effective corona virus vaccine on its way across the USA from the super virologist in our pharmaceutical companies, the pandemic should wind down as 2021 progresses – we hope and pray.
Nevertheless, many of you, I suspect, are expecting to receive a Firing Circle newsletter with all the details for our reunion in Ft. Walton Beach in Oct. A January Firing Circle is coming, but the reunion registration process is being delayed for two reasons. First, the details and registration process are tied to our web site, which required a significant update to the ancillary modules that allows it work so well. Thank You to web master Liz Buss for her hard work. Second, and more troubling, are the new uncertainties associated with distribution of the corona virus vaccine, and our population attaining "herd immunity" against it. The CDC is saying now that if 75-80% of the USA population is vaccinated by Sept., we will have the protection and can travel freely. But now, the Association is managing our commitments to the vendors that support the reunion (Hotel, Convention Hall, caterers, tours) so they can provide us necessary flexibility, should the USA NOT "open up" as expected.
As I write this, I foresee having our Oct. reunion as planned. If all registered guests are vaccinated, then the week should be as awesome as we ever had. If there are attendees who were unable to get vaccinated, then the associated risk rests with them. This is my plan: to follow closely the CDC's information on the USA vaccination process, and liaise with other organizations that are planning annual meetings this year. There are organizations that I am associated with, that have larger annual events than we have, and are facing these same issues.
November 16, 2020  President's Message  Greetings fellow Gunshippers, family, and friends This very peculiar year is slipping away into history, for what I hope and pray will become a brighter future. All the uncertainly we had about cancelling this year's reunion, seems now to have led to a good decision.  I know that those of us using Facebook, posted some sadness of not being able to reunite this year in Ft. Walton Beach. The good news is that the details for our 21st reunion in FWB next Oct. have been finalized, and will be (or is now) posted on the Association's Web Site, and in the November Firing Circle. With a safe and effective vaccine on its way from the super virologist in our pharmaceutical companies, the pandemic should wind down as the earth slowly makes another trip around the sun. A side thought, as I mentioned in the Aug. Firing Circle, Andrea and I did NOT venture to visit friends and family in FL in Oct., and sat in NJ avoiding the TV news as much as possible.  As I often report, the Association's Board of Directors is very active keeping the Association focused on the future. With many organizations using video conferencing (i.e. ZOOM) to have "virtual" meetings, your BOD tried a video conference for our Board Meeting on Nov.10. What a hoot!. We did have some technical glitches, even after some good testing, but the consensus is: it is enjoyable to see one another, not just listen to our voices on the phone.  NEWS: With the passing of Shadow Pilot Don Craig, we lost our "legacy unit" Point-of-Contact (POC) for the 17th SOS, who were flying MC-130Js from Kadena AFB. I have been communicating with the 17th  Past Cmdr., and learned that the 17th STOOD DOWN. The 130's stayed at Kadena with the 1st SOS. Now, what is intriguing RUMOR has it that USAF wants another AC-130J squadron, probably at Cannon AFB, and they may become the 17th SOS (with gunships this time). That would be so cool. I'll keep an ear-to-the-ground.  With the passing of Stinger Gunner Bruce Byrd, we lost out "tracker" of the last remaining AC-119 Gunship that is Stinger 850, at TSN. A Google Earth search shows that our 850 was fully reassembled by March 2020, and out of the hangar, now sitting in line with other VN era former USAF A/C. The Association's goal is to see that OUR HISTORY of 850 is well presented if/when the Stinger is put on public display at a TSN museum. Association Web Site.  Our Web Site has become a full-feature place for news, our history, and purchasing of AC-119 memorabilia. Quartermaster Gus Sininger has added new items to "our store". Also, Roy Davis, Wayne Laessig, and our Web Master Liz Buss, built a super "our stories" page where all of our Oral Video interviews, Biographies and Stories are readily available. Superb effort! The best thing our members can do is read the bios and stories and watch the videos of their fellow 119ers. You all must take a look, www.ac119gunships.com. Kimber Classic Pistol Raffle   The Association is fortunate to have for raffle a highly customized Kimber Stainless Steel .45 ACP pistol provided by Cherokee Firearms master gunsmith Ron Soderquist. This is a beautiful tribute to our AC-119s, and everyone involved with our success in Vietnam. See the Firing Circle for details on the beautiful customization and obtaining raffle tickets.  Secretary Andrea and I wish everyone a safe and peaceful Thanksgiving and Christmas time. Have faith that this pandemic will pass into history and we will again traveling freely.  Mike Drzyzga, President
May 19, 2020 President's Message  Postponed Reunion info from the Four Points Hotel: "We released all rooms that were not yet reserved.  Guests who already booked their reservations can keep their reservations if they decide to still come down for a vacation. If they would like to cancel their reservation, they will just need to give us a call at 850-243-8116 (mention you're with the AC-119 Gunship Reunion) and we will get that processed for them."  The Hotel will also provide Gus Sininger with an updated 2021 Reunion contract soon.
May 13, 2020 President's Message   Greetings from NJ. We are in a global situation unlike anything we have ever seen in our life-times. My everyday activities are extremely altered compared to what was previously a life of normal retired guy. Nonetheless, I have taken on again the responsibility to lead the Association moving forward.  Thankfully, the members of the Board of Directors, appointed officers, and committees are still working, focused on continued success. We are fortunate to have dedicated and conscience folks participating. The Shadow and Stinger spirit is as strong as ever.
REUNION 2020 IS CANCELLED! It saddens me to announce that the Board has decided that the Association will postpone the Fort Walton Beach Reunion until 2021. We considered all of the uncertainty associated with the October timeframe, we've had meaningful discussions with the Four Points Hotel staff (Thank You Gus Sininger), we discussed many of our member's health concerns, and then we envisioned a reunion requiring social distancing and face masks. No way will that work. Will there be another spike in "the curve?" Will a therapeutic or vaccine be widely available? No one knows if this is the perfect decision. Personally, I love FWB and will miss all the activities we would be doing. Thankfully, Reunion Coordinator Jerry McDonald for the Branson, MO reunion is willing and able to work on moving that Reunion from 2021 to 2022.  Thank you to Association newsletter editor Don Luke, for pulling the May newsletter together. Please, thoroughly check it out. Beyond all the routine news, there is so much information regarding: the raffle for a highly customized semi-auto Kimber Classic .45 ACP pistol; new items in the Quartermaster's store; an ongoing request for copies of your Special Orders from our Outreach Committee chairperson Ev Sprous; the Sponsorship Program, and more.  I pray that if we all do the correct things to stay safe, we will get past this global crisis and stay healthy. All the best, Mike Drzyzga
March 25, 2020 NEWSFLASH  Praying this FLASH message finds you all well — dealing rationally with the crisis the world is facing, and taking all the necessary precautions to prevent the spread of COVID-19. Change to Board of Directors: We are sad to announce that President Jerry Hester had to resign from the President position due to health and other issues. During a teleconference Board meeting, the Board understandingly accepted his resignation. Jerry did an outstanding job dealing with Association business since the previous reunion in Salt Lake City, successfully tackling some tough challenges like improving our website management, rebuilding our treasury, re-energizing our Outreach, and creating a super online repository for all our Oral History Videos. We thank him for those! The Association is in great condition, and we will continue to move forward with our goals and objectives. Following Jerry's notification, the Board took action to fill the President's position. As a result, Mike Drzyzga will step back up into the position, and Wayne Laessig will fill the Prior President's position, which was vacated by Mike. Jerry and Ellen are doing well in TX and we look forward to seeing them at Reunion XXI in Ft. Walton Beach, FL in October. Reunion XXI Planning for FWB:  This year's reunion is still a GO! By October, we are confident that the hard choices being made now will successfully win over the COVID-19 pandemic. Reunion XXI will be a very-much-needed fun time. Coordinator Gus Sininger has done a great job planning the Fort Walton Beach Reunion. The Association is working to publish a detailed April Firing Circle Newsletter, which will present specific information about special topics, such as: the raffle of a custom Kimber 1911 .45 ACP hand gun, the wide selection of reunion T-shirts that are available now, and several cool new items in the Association's Quartermaster web page. I encourage you to make your Reunion XXI plans now: first the on-line Reunion registration, and then book a room at the Four Points in FWB. Everything you need to know about the Reunion and to register is easily found on the Association's web-site at: https://www.ac119gunships.com/reunion/upcoming-reunion/   All the best to you and your families, be smart, stay well!! See you in October. Michael Drzyzga, Back as President
Prior Years President's Messages
2020-Current President Mike Drzyzga
2020-Current President Mike Drzyzga
2019 President Jerry Hester
2016-2019 President Mike Drzyzga
2013-2016 President Larry Fletcher
2012-2013 President Wayne Laessig
2008-2012 President Gus Sininger
2006-2008 President Vern Hansen
2005-2006 President Wayne Laessig
2004-2005 President Craig Corbett
2003-2004 President Rogers Stevens
2002-2003 President Gus Sininger
2001-2002 President Dutch Payne