Welcome to the AC-119 Gunship Association's Website!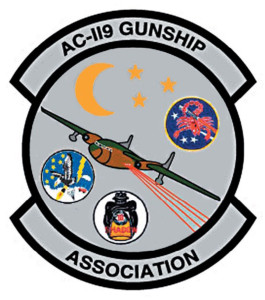 Dedicated to all who maintained, flew, & supported AC-119G "Shadow" & AC-119K "Stinger" gunships during the Vietnam War.
Home of the 71st, 17th, & 18th Special Operations Squadrons & personnel who served in AC-119s.
Why We Exist:
To preserve our fixed-wing gunship heritage & history;

To remember our fallen & to keep lit the flames of our camaraderie;

To educate historians & the public about the mission, aircrew, groundcrew, & others associated with the AC-119 gunships.
If you were assigned to, attached to, or supported the 71st, 17th, or 18th Special Operations Squadrons or their AC-119 gunship missions in any way, you are eligible to join the AC-119 Gunship Association.
Print this to help you navigate our website: AC119 Website 101 for Dummies 6_11_17    And, if you have problems viewing some pages, read this (click on the file name): Browser issues 8_31_17    For webpage corrections, contact our Webmaster Contact WM