Mail Call
Mail Call is one of our communication tools for significant events in our Association and individual members' lives, including notifications of illnesses and Last Flights.
Prior year Mail Call entries have been gathered into annual documents and are found after the current year entries.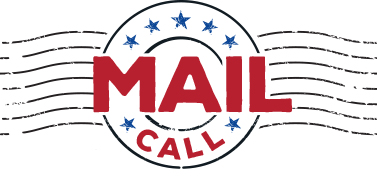 Please Contact Wayne Laessig
if you have a message you want posted in Mail Call. Put
Gunship Mail Call
in the Subject line. If you want your e-mail address posted so members can contact you, please SAY THAT in your message. (For example: "
Please include that I can be contacted at [email protected]."
) Wayne will review and post your message as soon as possible.
---
---
---
Here are the 2023 Mail Calls:
February 14, 2023 Ron Julian informed us that 71st and 17th SOS Shadow IO Hugh "Mike" Langley paassed on Mayy 22, 2022.
December 31, 2022 Mike Drzyzga and Mike Muller informed us that their Outreach searches also resulted in learning about several brothers we lost. R.I. P. Brothers all.
Marcus A. Brewer, 18th SOS Stinger Navigator and Association Life Member #23 passed on July 19, 2022.  Among his military honors were the Distinguished Flying Cross with one Oak Leaf Cluster and the Air Medal with thirteen Oak Leaf Clusters. He was credited with 135 combat missions in Vietnam as a Stinger Nav. 
William F. Doersham Sr, 18th SOS Stinger Gunner and Association Life Member #184 passed on December 15, 2015. 
Donald "Don" Gerlinger, 18th SOS Stinger Pilot passed on November 1, 2009.  Don's Air Force career included 3 tours of duty in Vietnam.
Richard Grimsley, 17th SOS Shadow Gunner, and Association Life Member #262 passed on December 19, 2022. Dave Voisey got a call from Donald Smith, 17th

gunner and very close friend of Richard;  Richard's wife phoned Don and informed him of Richard's passing on December 19, 2022 from complications of Parkinson's Disease.

Rich was also a Palace Chase AU-24 gunner.

Robert L. "Bud" Hintzen, 18th SOS Stinger Navigator passed on December 31, 2020.  He served 20 years in the Air Force and received the Distinguished Flying Cross.
Joseph C. Hoffman, 18th SOS Stinger Navigator passed on April 11, 20-19.  He served 20 years in the Air Force, with 130 close air support combat missions in one tour in Vietnam, earning three Distinguished Flying  Crosses and 11 Air Medals. 
Donald C. Lyles Sr, 18th SOS Stinger Flight Engineer and Association Life Member #74, passed on October 6, 2012.
Terrence "Terry" Moore, 17th SOS Shadow Maintenance and Association Life Member #241, passed on July 2, 2022.
Jerold E. Jake" Thomas, 71st and 17th SOS Shadow Gunner and Illuminator Operator passed on January 3, 2021. Jake was on Earl Scott's crew #9 at Phan Rang AB.
James M. Tilton, 18th SOS Stinger Flight Engineer passed on March 22, 2022.  He also served in World War II in North Africa, Sicily and Normandy and received four Purple Heart during all his service.
November 22, 2022 John Cootz received an email from Emma Pond verifying that her father Rodney Lee Guidry passed away in July of this year. Rod was an 18th SOS Stinger Gunner, First Sergeant at DaNang, and Life Member 39. Obituary: https://www.hixsonbrothers.com/obituaries/Rodney-Lee-Guidry?obId=25402064 R.I.P. Brother.
November 11, 2022 Ben Bond notified us that his grandfather, 71st SOS reservist Jimmy 'James' Bond passed. Ben said, "My grandpa Jim Bond bottom row far right in his crew picture gave me this coin from his squadron a day before I went on my first deployment in 2009. I have carried this coin with me everyday since as I continue my career in the Air Force. Unfortunately he passed this morning on Veterans Day 11 Nov 2022. Thank you all for your service who went before me and your dedication to our country." Jim Alvis tells us,  "Jimmy was the IO on Norm Reid's crew #8 out of Nha Trang. He was quite a character." R.I.P. Brother.
November 1, 2022 William "Bill" J. Kuhns Jr, 17th SOS Shadow Pilot, passed on July 30, 2022. R.I.P. Brother.  A private family graveside service with military honors will be held in the summer of 2023. The family wishes to extend their heartfelt thanks to the Emergency Department, ICU and Palliative Care Teams at Mount Sinai Beth Israel Hospital. In lieu of flowers, the family requests that contributions in honor of Bill's life be made to the Save the Music Foundation P.O. Box 2096 New York, NY 10108-2096
September 18, 2022 Jerry McDonald was called by family on two of our 17th Maintenance Crew.  Dennis H. Harris, 17th SOS Shadow Maintenance, passed on July 10, 2021.  Levi N. Rosecrans, 17th SOS Shadow Maintenance, passed on June 15, 2022. Both were Air Force retirees.  R.I.P. Brothers.
September 15, 2022 Ev Sprous received a call from Don Turner's wife that he passed in 2018. Don was in the USMC and worked with us in 69-70. Semper Fi Marine, and R.I.P Brother.
August 23, 2022
  Stinger Vern Hansen informed us that his wife Becky passed today after a valiant health battle:
Becky passed away peacefully surrounded by family.  Chuck, Libby, and I were by her side.  Their spouses, Corinne & Fred were there as well.  We will miss her terribly, but she can now breathe and has no pain.  Thank you so much for all of your prayers and well wishes.  We definitely felt them.
– Vern 
https://www.dunnfuneralhome.com/obituaries/Rebecca-Becky-Hansen?obId=25697955#/obituaryInfo
 Please keep all the Hansen family in your prayers. Note: Becky's Celebration of Life service will be held at First United Methodist Church, 1526 E. Wooster St. Bowling Green, Saturday, October 29, 2022 at 11:00 a.m. Visitation will be held from 10:00 to 11:00 a.m. at the church. A luncheon will be held at the church immediately after the service. Funeral arrangements have been entrusted to Dunn Funeral Home in Bowling Green. Memorial contributions can be made to the Black Swamp Players or the First United Methodist Church of Bowling Green.
August 22, 2022
We lost 18th SOS Stinger Nav Pete Chamberlain.  A Celebration of Pete's life will be held Sept 17th for all friends and family.  In lieu of flowers, contributions can be made in Pete's memory to the Community Table through First Presbyterian Church, 301 Hwy 35 N, Rockport, TX 78382.  Please keep Linda and family in your prayers. 
https://www.charliemarshallfuneralhomes.com/obituary/Peter-Chamberlain
R.I.P Brother.
July 24, 2022  Jim Alvis sent: It is with sadness I report the passing of 71st SOS reservist SSgt Robert L. Masterson on July 18, 2022. Robert was an Illuminator Operator at Nha Trang AB. Sincere condolences are extended to the Masterson family and friends.  R.I.P Brother.
July 1, 2022 Don Foster's son sent: With deep regret I (Donald I Foster, life member #272), announce the passing of my Dad, SMSGT Donald Foster, Life Member 46 and NCOIC of the Gunners on the 119 Stingers. He passed away 21 June of 2022 in Alexandria Louisiana.  He always considered the 18 SOS as " his boys" Please keep me informed of the up coming reunion. I'll be there in honor of my Dad.  R.I.P. Brother.
June 18, 2022 Marty Noonan tells us: "I just learned this morning that Shadow and Stinger Don Carlson passed away a few weeks ago. Don flew in Shadows out of TSN August 70-71 and then extended to the Stinger for six months out of Da Nang into 72, I think. There will a memorial service for him on July 12th at 2PM at Pacific View Mortuary and Memorial Park, 3500 Pacific View Dr. Corona Del Mar Ca. 92625 .  I have Dee's address if anyone wants to send condolences.  Marty"
June 3, 2022 Donald Gray, 18th SOS Maintainer and Life Member 446 of Nazareth PA, passed away on Saturday, May 7, 2022.  Donald served our country in the Air Force from 1970-1974. A memorial and prayer service took place on Sunday, May 15, 2022 at the Branchburg Funeral Home 910 Rt. 202 South.  R.I.P. Brother.
May 14, 2022 Jim Alvis sends: It is with sadness I report the passing of 71st SOS reservist SSgt Michael P. Turner on May 7, 2022. Michael was Flight Engineer on Major Charles Blake's crew at Phan Rang AB. Sincere condolences are extended to the Turner family and friends.
May 12, 2022 Bonnie Treat notified us that her husband, 18th SOS Maintainer Terry L. Treat, passed away April 13, 2022 due to Agent Orange illnesses. R.I.P. Brother.
May 10, 2022 Louis Meier informed Ev: On Tuesday, the Lord called home an amazing man. My dad, Charlie Meier, passed away. This is a man who beat stage 4 colon cancer (WITHOUT chemo or radiation), went through open heart surgery, survived combat in Vietnam, and was the pillar for the family when he lost his two oldest sons. He died doing something he absolutely loved, bee keeping. He was working his hives when the bees, for reasons unknown, began to attack. Unfortunately, he was allergic to the bee stings and did not get his Epinephrine soon enough. Please pray for our family as we begin to navigate life without him.
April 12, 2022 Jim Alvis recently learned the passing of 71st SOS member Captain Michael R. Kiely on April 2, 2019. Captain Kiely was a navigator on Col. Bill Long's crew #7 at Phan Rang Air Base. Sincere condolences are extended to the Kiely family and friends.
April 10, 2022 Marcus Williams informed us that his Great Uncle, 17th SOS Shadow Pilot James M. Roach, who died June 24, 2019, was interred in Arlington Cemetery April 8, 2022. R.I. P. Brother.
April 5, 2022 The Air Commando Association notified us that the Father of Gunships has passed.   Air Commando Association 1h0S02ut4h0ml3hh4o9mh It is with a heavy heart we give a slow hand salute to Col Ron Terry "Father of the Gunships" who passed away yesterday. We will be posting memorial/funeral information as we receive it. We have shared an article from the Air Commando Journal about Col Terry's experiences with the early gunships. https://aircommando.org/…/Spooky-Spectre-and-the-Man…
April 1, 2022 Shirley Bartlett  notified us that Frank Bartlett, 18th SOS Stinger Gunner, will be put to rest in the Northern Nevada Cemetery in Fernley, NV with full military honors on April 14, 2022 at 1300. R.I.P. Brother.
March 22, 2022 Keith Johnson asked us to add Emile LeRoy Johnson (Jonnie), 18th SOS Flight Engineer, to our Final Flight list. Jonnie passed July 22, 1993. R.I.P. Brother.
March 21, 2022 While Ev Sprous was checking on emails for Dave Voisey, he found that Remo A Boschian, 17th SOS Pilot,  died March 22 2022, per his wife.  R.I.P. Brother.
March 13, 2022 Neil A. Taylor, 18th SOS Stinger Gunner, lost his battle with pancreatic cancer in a short but hard battle on Sunday, Dec. 26, 2021.  Visitation is Sunday, January 09, 2022 6:00 PM – 8:00 PM at Greenwood Chapel 3100 White Settlement Road  Fort Worth, TX 76107 in  Greenwood Funeral Home.  Funeral is Monday, January 10, 2022 at 12:00 PM at Greenwood Chapel with Interment at Woodland Park Cemetery. R.I.P. Brother. Obituary: https://www.greenwoodfuneralhomes.com/obituary/neil-taylor
March 8, 2022  Frank Bartlett passed peacefully at Reno VA hospital at approximately 1300 today. RIP Brother, and prayers to help comfort your family.
March 4, 2022 Karen Graves' niece Sheri put together a beautiful obituary: https://www.legacy.com/us/obituaries/magicvalley/name/karen-graves-obituary?id=33536507  It's posted here and on our Facebook; please share with all. Sheri and family appreciate Karen's rich relationship in our AC-119 family.
March 2, 2022 Wayne Laessig sadly informs us that Honorary Life Member and Founding Father Fred Graves' wife Karen passed away this morning. Wayne saw Karen last Friday and when he left, she was holding her Stinger Ascot. Karen will be interred with our Brother Fred in Buhl National Cemetery. She will be missed by many in our AC-119 Family. Rest In Peace, Sister. Obituary info will be posted soon.
February 28, 2022 Charlie Meier informed his fellow 17th SOS Shadow crew members that 'We have lost our flight engineer, Larry G. Kincaid. I found a gravestone in Ohio Western Reserve National Cemetery https://www.findagrave.com/memorial/180858423/larry-gene-kincaid: Larry G. Kincaid; SMSgt; Nov 30, 1941 – Apr 26, 2017; DFC, MSM, AM with 8 OLCs. I made phone calls to folks associated with my research of his name, and today, a gentleman relative called me and confirmed the above for me. Larry's knowledge of the AC-119 engine saved our rear-ends more than once, and he was a great and reliable crewmember.  I am very sorry to inform all of you of Larry's death, our third loss. Lee & Feuz being the former two I know about."  R.I.P. Larry – our bonds are forever, Brother.
February 27, 2022 Shirley Bartlett asked all to Please remember your brother, Frank Bartlett, in your prayers. He is in Reno VA hospital and in horrific pain. The Cancer has spread to his liver and bones and they are trying manage his pain. He also has a fractured pelvis. He is in really bad shape.  Please send your prayers to strengthen and comfort Frank, Shirley, and their family.
February 25, 2022 Bruce Ross informed us that 18th SOS Navigator Jerry Glover took his Final Flight.  Jerry served in SEA from July 1971 to July 1972, and often prepared the documents for individual awards.  He retired as a Lieutenant Colonel after a 20-year military career.  Prayers to his family.  R.I.P. Brother 
February 22, 2022 Jim Alvis recently learned the passing of 71st SOS Shadow reservist MSgt Clarence McDaniel on March 12, 2021. Clarence was the IO on Al Heuss' crew #20 at Nha Trang AB. Sincere condolences are extended to the McDaniel family and friends. 
February 18, 2022 18th SOS Stinger Nav Fred Doyle's Son In Law Lloyd Moon notified us that Fred passed on Monday.  His Celebration of Life service will be Monday, 21 Feb, 1100 at Shalimar UMC
January 30, 2022 From Ron Julian: I found out this morning that John Milam (Gunner, 18th) passed away on October 16 2021.  John was a "senior" gunner during my tour in 1970.  I flew with him numerous times.  If my memory is accurate, he was an Instructor Gunner and may have been a Gunner Flight Examiner.   John was a Life member and attended the FWB reunions as long as his health permitted.  His widow, Lila Mae, still resides in the Panama City https: www.tributearchive.com/obituaries/22680119/john-mila