Mail Call
Mail Call is one of our communication tools for significant events in our Association and individual members' lives, including notifications of illnesses and Last Flights.
Prior year Mail Call entries have been gathered into annual documents and are found after the current year entries.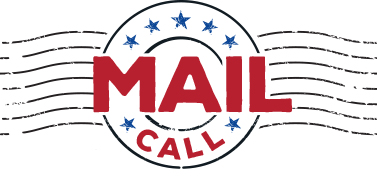 Please
Contact Wayne Laessig
if you have a message you want posted in Mail Call. Put
Gunship Mail Call
in the Subject line. If you want your e-mail address posted so members can contact you, please SAY THAT in your message. (For example: "
Please include that I can be contacted at BrucePismo@sca.net."
) Wayne will review and post your message
as soon as possible.
Here are the 2021 Mail Calls:
January 13, 2021.  Missy Brooks, 71st and 17th SOS Shadow Pilot Eugene "Gene" Schaltenbrand's daughter, posted this on our Facebook site: My favorite pilot and dad has flown his last mission. Colonel Eugene Schaltenbrand landed at the gates of Heaven last night 1/12/2021 at approximately 2100 Central. He leaves his wife of 62 years, Barbara; daughter Missy Brooks (Eric); son Stephen Schaltenbrand (Rexine); grandsons Mitchell Brooks, Tyler Schaltenbrand, and 1LT Stephen (Alex) Schaltenbrand – USA Army Aviation; granddaughter Katie Brooks; and his loving grieving yellow Labrador, Snow.  R.I.P Brother, and prayers for your family.
---
January 6, 2021. Ev Sprous continues to look for and find some of our members who don't know about us!! Along the way, he often learns of those who passed before we found them and we don't get to see them one more time. Please look at our ALPHA Roster to identify ANYONE who should be on our list but isn't, and if you have contact info for them, use the ALPHA Roster form to send it to us!! Ev recently found that two had passed: 18th SOS Glenn B. Ashworth who passed January 3, 2006; https://www.findagrave.com/memorial/72861677/glenn-b-ashworth, and 18th SOS Harold W. "Hal" Ayers who passed January 23, 2007; https://www.findagrave.com/memorial/47303438/harold-wayne-ayers.  R.I.P. Brothers.
---
January 6, 2021.  We sadly learned of the recent passing of Doug Gorsuch, 17th and 18th SOS FE   He will be buried January 8 at Green Hill Cemetery in Union, WV with Military Honors by fellow veterans from the  WV Honor Guard and VFW Post 6723 and American Legion Post 100 Honor Guards.  R.I.P. Brother and prayers to your family. Further details are at http://www.groves-mann.com/guestbook?id=7301846&fbclid=IwAR2tJLu48bLMiZ8UCcR_vNwaxGH9vclYf4kA4f30WEru_IdD-PLUEe6yXd4
---
January 1, 2021.   It has been a rough road the past 10 months, coupled with heart breaking losses! Please stay safe and let's look forward to our 2021 reunion!