Mail Call is one of our communication tools for significant events in our Association and individual members' lives, including notifications of illnesses and Last Flights.
You can open the Directories at the bottom of this page to access prior year Mail Call entries.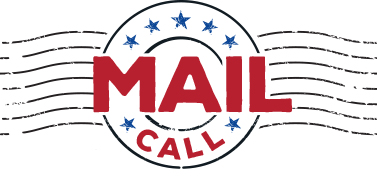 Here are the 2020 Mail Call
      March 25, 2020 NEWSFLASH  Praying this FLASH message finds you all well — dealing rationally with the crisis the world is facing, and taking all the necessary precautions to prevent the spread of COVID-19. Change to Board of Directors: We are sad to announce that President Jerry Hester had to resign from the President position due to health and other issues. During a teleconference Board meeting, the Board understandingly accepted his resignation. Jerry did an outstanding job dealing with Association business since the previous reunion in Salt Lake City, successfully tackling some tough challenges like improving our website management, rebuilding our treasury, re-energizing our Outreach, and creating a super online repository for all our Oral History Videos. We thank him for those! The Association is in great condition, and we will continue to move forward with our goals and objectives. Following Jerry's notification, the Board took action to fill the President's position. As a result, Mike Drzyzga will step back up into the position, and Wayne Laessig will fill the Prior President's position, which was vacated by Mike. Jerry and Ellen are doing well in TX and we look forward to seeing them at Reunion XXI in Ft. Walton Beach, FL in October. Reunion XXI Planning for FWB:  This year's reunion is still a GO! By October, we are confident that the hard choices being made now will successfully win over the COVID-19 pandemic. Reunion XXI will be a very-much-needed fun time. Coordinator Gus Sininger has done a great job planning the Fort Walton Beach Reunion. The Association is working to publish a detailed April Firing Circle Newsletter, which will present specific information about special topics, such as: the raffle of a custom Kimber 1911 .45 ACP hand gun, the wide selection of reunion T-shirts that are available now, and several cool new items in the Association's Quartermaster web page. I encourage you to make your Reunion XXI plans now: first the on-line Reunion registration, and then book a room at the Four Points in FWB. Everything you need to know about the Reunion and to register is easily found on the Association's web-site at: https://www.ac119gunships.com/reunion/upcoming-reunion/   All the best to you and your families, be smart, stay well!! See you in October. Michael Drzyzga, Back as President
     March 23, 2020 Ev Sprous and his Outreach Team keep finding guys but also learn of some who passed before we were able to make contact.   Those include Seth B. Hodges, 18th SOS Stinger Nav who passed on Nov 19, 2019; and Jack K. Pilson, 18th SOS Stinger FE who passed May, 2002. R.I.P Brothers.
      March 18, 2020 Just learned of the passing of Doug Blair, 18th SOS Gunner. Doug had been in a home for the last year. Here is the obit: https://obits.nwfdailynews.com/obituaries/nwfdailynews/obituary.aspx?n=douglas-s-blair-doug&pid=195705897 Please pray for his wife Helen and daughter Rose & other members of the family.
     March 2020 Update: Ev Sprous and Don Luke found several of our brothers who passed away before we made contact: R.I.P all.
Bob Jones daughter sent us: "This link is to a video of my Dad's funeral at Arlington National Cemetery last May 

Bob Jones

. You have to scroll down to my Dad's video "Jones, Joe Jerry" and enter this password to be able to watch the video JJJ75$. The most moving part starts at about the 17 minute mark where my sister Terry talks about my Dad and his life. I forgot to add for those that did not know my dad that he flew AC-119K Stingers out of DaNang in 1970 and 1971. God bless all of you heroes who served over there. You all have my utmost respect and appreciation.

We recently learned of the passing of Richard Havens, 18th SOS Stinger Illuminator Operator. His niece, Linda Levine, sent the message by mail and included a $100 check in honor of Richard. He passed on 26 April 2019. Please join us in prayer for the family.

William Joseph Ubinger, 71st NAV/NOS passed away on 9/19/2011

Eugene "Gino" Veltre – 9/27/2001

https://www.findagrave.com/memorial/125054477/eugene-r-veltre/photo

Info found in Find A grave for Lance Weyrough, 17th SOS Maintenance.

https://www.findagrave.com/memorial/114155445

Lance Alan Weyrough Birth 1 Feb 1950 Death 24 Feb 2000 (aged 50)
CMSgt Donald F. Zeorlin, 90, AC-119 Maintenance, passed away Sunday, September 11, 2011, in Abilene.

https://www.dignitymemorial.com/en-ca/obituaries/name/donald/zeorlin

Graveside services were held in the Santa Fe National Cemetery, He served his country in the United States Air Force for 32 years, with service in WWII, Korea and Vietnam.
      March 4, 2020 Just got this from 18th SOS Stinger FE, CMSgt Pugh's daughter: "This is Robin Reichold, daughter of Chief Master Sergeant Retired USAF William G. Pugh He lost his battle with Parkinson's at 8:13 am today! He was the Best Son ..Brother..Soldier.. Husband..Dad..Uncle and Friend Ever!!! He was Really the Best and Greatest at a lot of things and will be Missed Dearly!! I can't talk anymore right now but you are the Best Pa!! I Love You."
      March 4, 2020 Jerrilyn Derr contacted our website: "I am letting you know that Bob Derr, 17th SOS Shadow Pilot, passed away the end of December 2019."
      February 6, 2020 We just learned of the passing of Jim E Sands II on Feb 6, 2020. Jim was Avionics with the 18th SOS Stingers at Phan Rang. Please pray for the Sands family & friends.  
      January 24, 2020 Duane Ferneau's son wanted to share his obituary with his old crew. He had a bunch of old slides and pictures. https://kdminer.com/…/feb/15/obituary-duane-richard-ferneau/ Duane, 18th SOS Weapons Load, passed away Jan 24, 2020. His Memorial was held Feb 21, 2020 at Hualapai Mountain Park Campground, 6250 Hualapai Mountain Road, Kingman, Arizona. In lieu of flowers, please donate in Duane's honor to the Patrick Tillman Foundation at www.pattillmanfoundation.org.
      January 9, 2020 Bill Boyne regretfully and sadly announced that Col Walter James Boyne flew his last mission and passed at 3:10, Jan 9, 2020 in Silver Spring MD. "It is with a heavy heart that I speak to you today. Dad is to be interned at Arlington Cemetery, date unknown at this time. Many of our warriors are falling and God bless them all. It is a long and noble waiting list. I know the he was so very proud to be a crew member in the USAF, and was honored to serve and meet the very people I contact today. I will continue to post information about the service arrangements and I ask for your prayers. The Boyne family cherish your thoughts, memories and stories. Dear Dad, Above and Beyond!!"
      January, 2020 Update Ev Sprous "found" several members, and sadly learned of others who had passed away.
Michael Douglas, 17th SOS Maint, passed March 2016.
Richard D. Hehman, 71st SOS Maint, passed on December 30,2013.
Keith Underwood, 18th SOS Nav, passed on October 10, 2019.
Norman Wills, 71st SOS NCOIC of Admin, passed on November 9, 2004, 
      December 24, 2019 Tony Perez notified us that his Dad, Mario Alfaro was ill, and sadly a few days later informed us that Mario, 71st/17th Flight Line Supervisor, passed on December 24, 2019. Services were held in Antioch, CA on January 8, 2020.
Please use the following Contact Form to send Wayne Laessig a message you want posted in Mail Call. Put Gunship Mail Call in the Subject line. If you want your e-mail address posted so members can contact you, please SAY THAT in your message. (For example: "Please include that I can be contacted at BrucePismo@sca.net.") Wayne will review and post your message as soon as possible.
Note: To help cut down on harvesting of email addresses we use the word "at" instead of the "@" sign in e-mail addresses. Remember to change the "at" to "@" when you use the e-mail.